Rejuvenating Massage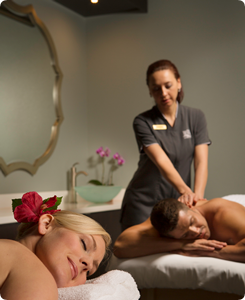 Be indulged, be inspired and be pampered, as our therapists heal through the power of touch. The Spa at Rosen Centre offers soothing massages that each focus on different techniques and provide targeted relief to revitalize the spirit.
Signature Ashiatsu • 50/80 min • $130/$185
This traditional barefoot technique yields extraordinary, enriching results. Soothing full-body strokes and deep pressure are applied, releasing toxins and inducing deep relaxation. Aids in reducing aches and pains, while also increasing lymphatic drainage. Extremely therapeutic, this is perfect for those who relish deep tissue massages.
Aromatherapy Massage • 50/80 min • $125/$175
This custom treatment uses the power of essential oils like lavender, citrus or peppermint to stimulate the body's well-being and encourage a healthy mental, physical and emotional state. Prepare for ultimate bliss.
Swedish Massage • 50/80 min • $110/$160
Known the world over for the long flowing strokes that make it the classic body massage, the Swedish massage delivers complete rest and relaxation. Relieve muscle tension. Enhance circulation. Reward all your senses.
Therapeutic Massage • 50/80 min • $120/$170
A relaxing experience with a healing touch designed to focus on the different layers of muscle tissue to alleviate sore, stressed muscles and help relieve chronic pain. Your therapist will customize a treatment to address your specific areas of concern, such as lower back pain or a stiff neck from sleeping.
Deep Tissue Massage • 50/80 min • $130/$180
Tailored to the needs of those more physically active, this specific massage addresses problematic muscles and joints common to amateur athletes. The specific combination of strokes and techniques helps stretch the muscles and improve flexibility while also flushing metabolic waste from the tissues.
Blissful Stone Massage • 50/80 min • $135/$185
Utilizing elements of nature, this massage calms your mind and rebalances your body. Exotic oils infused with orange blossom, mango or your choice of scented oils are used in tandem with smooth, warmed stones. The penetrating heat, along with the light to medium pressure massage, relieves tense muscles and soothes sore joints.
Mommy-to-Be Massage • 50 min • $115
Therapeutic and completely relaxing, our prenatal massage is designed for moms-to-be who are past their first trimester. Soothing strokes and safe, healthful techniques help alleviate muscle aches and joint discomfort common with pregnancy. Refreshes while also reducing fatigue and improving circulation.
Reflexology Massage • 25/50 min • $65/$115
Performed by a specially trained massage therapist, this ancient Chinese technique stimulates specific pressure points on the legs and feet to relieve tension and restore a smooth energy flow throughout the body. This healing therapy is as blissful as it is beneficial.
Pick-Me-Up Massage • 25 min • $65
Perfect if you're short on time but need a quick pick-me-up after a long day on your feet or in meetings. Both relaxing and invigorating, it will help you relieve the day's tensions. This treatment is the perfect enhancement to any of our Image facials.
Couple's Suite Escape • 50/80 min (Price based on service)
A pampering experience for you and your favorite person, this custom treatment is designed to surpass your every expectation. Price varies depending on services chosen and their duration.
In-Suite Massage* • 50/80 min (Price based on service, Add $40)
Perfectly private and ultra convenient, The Spa at Rosen Centre brings the art of massage right to your room. Evening treatments are available until 8:00 p.m. 24-hour notice is kindly requested.
*Excludes Blissful Stone Massage and Signature Ashiatsu